The History of Doenges in Bartlesville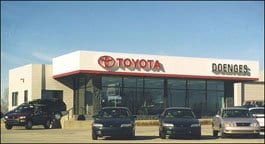 William C. "Bill" Doenges
By Brad Doenges, Dealer
In April 1941, my grandfather, William C. "Bill" Doenges, purchased the Ford dealership in Bartlesville from Bert Gaddis. Two generations and 69 years later his business is still going strong.
He Was Only 14 Years Old
Bill Doenges took his first job with the Ford agency in Tonkawa when he was 14. His ambition to become a dealer was realized in 1931 when he acquired the agency at Braman, north of Blackwell.
The Ford Story in Bartlesville, Braman, Coffeyville, Towanka and Tulsa
Over the next 20 years, one success led to another as he operated numerous dealerships. In 1936 he acquired the Ford agency in Tonkawa, and in 1942 acquired the Ford agency in Coffeyville, Kansas.
In 1948, he bought the Ford agency in Tulsa, which was later operated by his sons, Bill (my father) and Bob Doenges, as Doenges Brothers Ford. (As an aside, last month I mentioned that he acquired the dealership in Braman in 1929. We have some documentation for this - he was honored by Ford Motor Co. in 1979 for being a 50 year Ford Dealer; however in preparing to compose this letter, I found some newspaper quotes from him indicating this was actually in 1931. Who knows?)
Doenges The Senior Toyota Dealer in Oklahoma
In 1968, he acquired the Toyota franchise at the Bartlesville dealership. Today, Doenges is the oldest Toyota dealer in the state of Oklahoma.
By the late 1970s, the agency had outgrown its original location on Osage between Frank Phillips and 4th Street and moved to our current location on Washington Boulevard.
By the late 1980s, as his health deteriorated my uncle Bob became more involved in the dealership, eventually becoming the dealer principal when my grandfather passed away in 1991.
"All I Ever Wanted to be was a Good Car Dealer "…Bill Doenges 1971

My grandfather had many other interests and accomplishments in his life and was a super grandfather, but he told me late in his life that "all I ever really wanted to be was a good Ford dealer." In 1971, when celebrating the 30th anniversary of the Bartlesville agency he said, "if I were to start over today in business, I would buy the dealership in Bartlesville…I felt it was the best community in Oklahoma 30 years ago and it still is!"
To Learn, To Love, To Leave a Legacy
It's in keeping with this spirit that I proudly carry on his legacy. He set a great example through his success, but more importantly through his commitment to the community with his leadership and financial support for dozens of organizations, sports teams and causes. If you ask any Doenges associate today, I feel confident they would say the thing they are most proud of working here is the fact that Doenges Toyota is active in our community and gives back to make it stronger for everyone. In 2010, the Doenges Family was awarded the Bartlesville Legacy Hall of Fame Award by the Bartlesville Community Foundation.
Doenges Toyota Recognized and Voted the Favorite
There is a reason we've been voted Bartlesville's Best Auto Dealer the last five years in the Examiner-Enterprise Best of Bartlesville Readers' Choice Awards -- actually that's every year they've had the recognition. To the point, it is our employees and our customers that make the difference. It's you - you are the reason!
Doenges Toyota Ford Lincoln Is Financially Secure, Strong and Stable
It's a crazy time. Who would have predicted that the U.S. Government would virtually be running leading American automobile manufacturers? Or that they might actually need to go through bankruptcy to restructure? We're awfully proud of Ford Motor Co. for not being in that position. We feel our products across all our lines, Toyota, Ford Lincoln and Mercury, are the best, and the best they have ever been. If you don't believe me or know someone who doesn't, do as Ford says, come "Drive One" I'm sure you will be impressed. Call or email me or one of my associates and we will show you!
At Doenges Toyota we're still fighting for your business and winning every day. We know that our future and the future of our country depend on hard work, the willingness to sacrifice and a commitment to each other as co-workers, community members and Americans. Thats why as Oklahoma's oldest Toyota dealer, we are committed to making your vehicle purchase experience a truly rewarding one. Our primary goal is serving you in a fast, easy, professional manner. We offer up-front pricing on new Camry, Corolla, Tundra, Tacoma, Venza, Land Cruiser, Yaris, Prius, and all the other awesome Toyota vehicles in our e-commerce shopping cart. We also offer a wide array of used vehicles at affordable pricing. We are proud to be a family owned store through three generations that supports the communities we serve -- Bartlesville Dewey, Pawhuska, Tulsa, Nowata, Skiatook, Collinsville, Owasso, Vinita, Coffeyville, Copan, Caney, Sedan, Independence, Miami, Ponca City, Hominy, Chelsea and more. We are the home of the $9.95 Oil Change, and feature the Best Tire Price Guarantee and the Liftetime Service Guarantee. From the moment you take delivery, to servicing in our award winning Service Department and Parts Department, and our ICAR Gold Class Certified Body Shop, Doenges Toyota is there for you. So Come see us at 1901 SE Washington Blvd. off of highway 75 in Bartlesville, Oklahoma.